Сервер Aria Lineage2Europa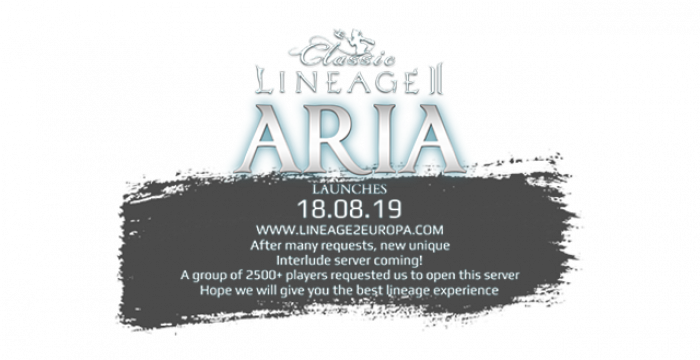 Игра:

Lineage 2

Рейты:

x50
We from Lineage 2 Europa are proud to present to you our server:Aria x50
We promote a server based on both PvE and PvP
Unique PvE environment, intresting new quests, intresting way to achieve equipment and goods
Unique PvP environment, the new Blood Pool Engine make everyone become greedy and try steal others rewards
Why Java? This is the mostfrequent question we've got over the few months. Well... it'squite simple, we have reworked our Java server to be as good as PTSL2 OFF. We assure you that you will have a better game experience then all other java servers you have played before and it will be similar with the retail one.
We watched all popular servers which had success and we wondered, why don't we replicate the exact same server andput it online for the public? This can be a tricky question of course, however, the answer is that we don't care if someone names us copycats, but that server already existed and is closed for a reason... We took what we considered good and what we liked from all the popular servers.
We are here to bring to you a retail game experience but without the boring parts of the game or the boring solo spoiling nights (PS: for some of us is called the night we leave house for have fun with friends and we leave the bot program to do the job for us...) Every player wholoves to PvP1 vs 1 or even team vs team, calling friends and create a party to go rape some asses in the game, is fun right?
We all know that Lineage 2 Classic have cool interface and graphics, we took this too to our server and implemented in interlude chronicle, but... what else is cool in Lineage 2 Classic and would be nice to see in Interlude? The enchant bonus system on armors, they have until+10, we mastered it to +12. Now all armors from D-Grade to S-Grade can be great, have you ever expected a Duelist in Brigandine set +12 to come and kick your ass? Or a Dagger Class wearing Zubei Leather Set +12 instead the famous Majestic or Draconic? Even Blue Wolf is cool to be honest with you. Why? Now is cheaper to have D/C/B-Grade set +12 all then A/S-Grade which is much harder to obtain and even enchant to the max, A/S-Grade still remain top items but for the mid game you can still have fun with lower tier armors.
Отзывы