Сервер MU Splinter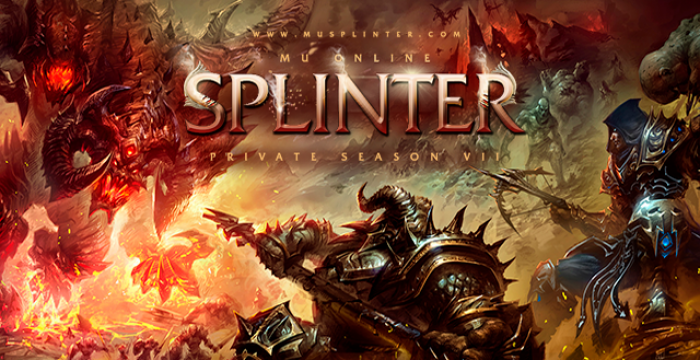 Игра:

MU Online

Рейты:

x50

OPEN-10th

MARCH!

PLAY

&

EARN

CREDITS
S17 ITEMS +GOLD VIP 2 WEEKS
Mu Online Splinter Season 6 Grand Opening x50 OPEN-10th MARCH! PLAY & EARN CREDITS
With us EVERY player can use all the items, weapons and even wings 9 LVL of ALL classes !
Exp : x50 | Free Credits for Quests, Events, Bosses, Golds, custom Achievement system |
Season 6 | Drop : 35 | 400 Lvl - 25 RR | 7 Pts |
New Quest System+ | PVP+ | New Pets | Items : S17+ | Smithy with Excellent items & Wings
First of all, we would like to begin with gratitude to all player for supporting our young and tough project of the MuSplinter VII. We believe in our World and will continue to delight you with updates and new features in the game, so that you are confident in the stability of our project. After all, we love this game as much as we all do.
Download Fresh Client to Play : https://musplinter.com/index.php?id=downloads
Registration is available : https://musplinter.com/index.php?id=register
x50 OPEN-10th MARCH! PLAY & EARN CREDITS ! S17 ITEMS +GOLD VIP 2 WEEKS
S6 | x50/35% | 400LVL
https://www.musplinter.com/
RR: 25 / GR: 25 / ML: 1000LVL
STATS: 32K | PTS: 5/7/7
RR-CLEAR stats: *500 Pts
GR-CLEAR stats: *5000 Pts
ML-KEEP stats: *NO-RR
New Monsters, Events & Maps
Custom Quest System - 500+ quests
Custom Items & Wings 5LVL
Custom Pets Loor, Rabbit, etc.
Custom SMITH inGame Client
Custom Minimap Info & New 3D++
Custom Party System up to 10 people
Custom InGame Settings
Отзывы